How to visit Kazakhstan?

Kazakhstan is a vast, 9th biggest country in the world, situated near Russia and China. Major cities — Almaty (largest city) and Astana (capital). 
There are many English-speaking people in both «capitals», and in Atyrau and Aktau. Young citizens of Kazakhstan mainly speak better English than adults — almost every school in country study English at least 7 years. It could be useful to speak or to just know some Russian.
It could be useful to travel to China or Mongolia through Kazakhstan, because it's visa policy is not very complicated. There are many roads connecting Russia and Kazakhstan, the connections between countries are pretty big. South-east Kazakhstan is connected with western China with several roads.
If you plan to visit Kazakhstan, you should know visa policy of the Republic.
Visa to Kazakhstan. Visa free countries
Visa is not required for citizens of following countries: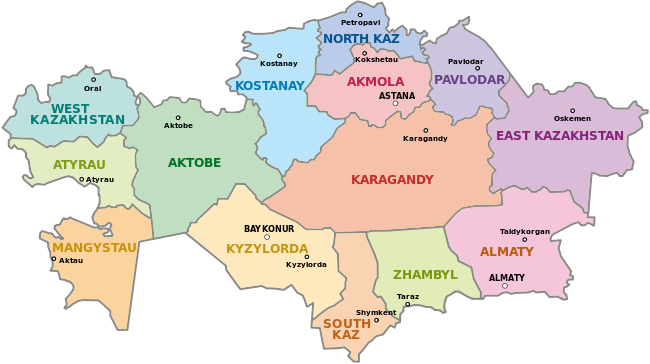 No Visa Program
Citizens of the following countries do not require a visa for stays up to 15 days as part of a no-visa program:
No Visa Program from January 1, 2017
More countries added to no-visa program in 2017 for stays up to 30 days. Full list:
 Australia
 Austria
 Belgium
 Canada
 Chile
 Czech Republic
 Denmark
 Estonia
 Finland
 France
 Germany
 Greece
 Hungary
 Iceland
 Ireland
 Israel
 Italy
 Japan
 Latvia
 Luxembourg
 Malaysia
  Monaco
 Mexico
 Netherlands
 New Zealand
 Norway
 Poland
 Portugal
 Singapore
 Slovak Republic
 Slovenia
 South Korea
 Spain
 Sweden
   Switzerland
 Turkey
 United Arab Emirates
 United Kingdom
 United States
You can book hotel via booking.com, buy airplane ticket to Kazakhstan via jetradar, book the train ticket (from Russia, Kyrgyzstan and Uzbekistan) via railways.kz. Unfortunately there is no English version on railways web site. In this case you can use google translate.
If you have any questions — just ask!
You can find more additional information on official site of the Ministry of Foreign Affairs — mfa.gov.kz